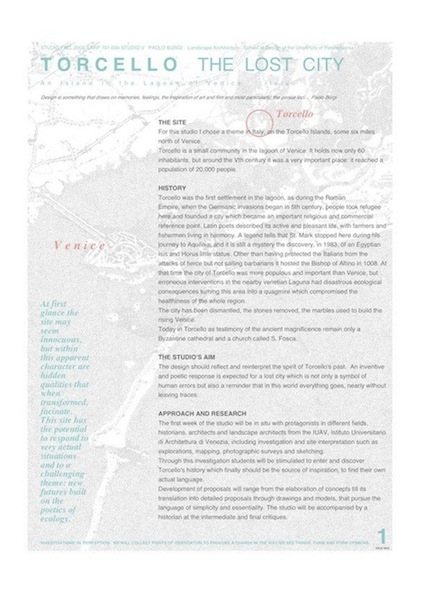 THE LOST CITY
TORCELLO, VENEZIA
UPENN
Philadelphia, Usa
THE SITE
For this studio I chose a theme in Italy, on the Torcello Island, some six miles north of Venice.
Torcello is a small community in the lagoon Venice. It holds now only 60 inhabitants, but around the V century it was a very important place: it reached a population of 20.000 people.
HISTORY
Torcello was the first settlement in the lagoon, as during the Roman Empire, when the Germanic invasions began in V century, people took refugee here, and founded a city which became an important religious and commercial reference point. Latin poets described its active and pleasant life, with farmers and fishermen living in harmony. A legend tells that St. Mark stopped here during his journey to Aquileia; and it is still a mystery the discovery, in 1983, of a Egyptian Isis and Horus little statue. Other than having protected the Italians from the attacks of fierce but not sailing barbarians it hosted the Bishop of Altino in 1008.
At that lime the city of Torcello was more populous and important than Venice, but erroneous interventions in the nearby venetian Laguna had disastrous ecological consequences turning this area into a quagmire which compromised the healthiness of the whole region.
The city has been dismantled, the stones removed, the marbles used to build the rising Venice. Today in Torcello as testimony of the ancient magnificence remain only a Byzantine cathedral and a church called S. Fosca.
THE STUDIO'S AIM
The design should reflect and reinterpret the spirit of Torcello's past. An inventive and poetic response is expected far a lost city which is not only a symbol of human errors but also a reminder t11at in this world everything goes, nearly without leaving traces.