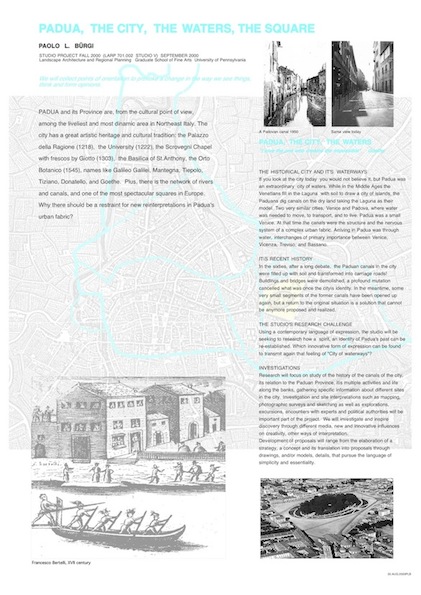 THE CITY THE WATERS THE SQUARE
UPENN
Padova, Italy
RECENT HISTORY
In the sixties, after a long debate, the Paduan canals in the city were filled up with soil and transformed into carriage roads! Building and bridges were demolished, a profound mutation cancelled what was once the city's identity. In the meantime, some very small segments of the former canals have been opened up again, but a return to the original situation is a solution that cannot be anymore proposed and realised.
THE STUDIO'S RESEARCH CHALLENGE
Using a contemporary language of expression, the studio will be seeking to research how a spirit, an identity of Padua's past can be re-established. Which innovative form of expression can be found to transmit again that feeling of "City of waterways"?
INVESTIGATION
Research will focus on study of the history of the canals of the city, its relation to the Paduan Province, its multiple activities and life along the blanks, gathering specific information about different sites in the city. Investigation and site interpretation such as mapping, photographic surveys and sketching as well as explorations, excursions, encounters with experts and political authorities will be important part of the project. We will investigate and inspire discovery through different media, new and innovative influences on creativity, other ways of interpretation.
Development of proposals will range from the elaboration of a strategy, a concept and its translation into proposals through drawings, and/or models, details, that pursue the language of simplicity and essentiality.