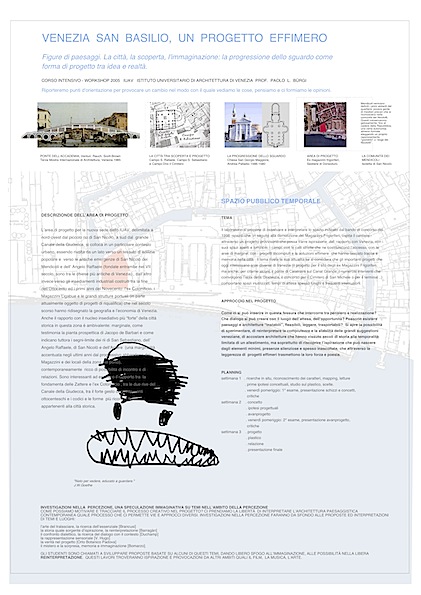 VENEZIA SAN BASILIO
UN PROGETTO EFFIMERO
IUAV
workshop – collaborators
Luigi Latini, Chiara Pradel
Venezia, Italy
SITE
The site for the new building of IUAV, bordered on the north-west side by the little Rio di San Nicolò, on the south by the vast Canale della Giudecca. sets in particular urban context, facing the popular buildings and the ancient examples of San Nicolò dei Mendicoli and of Angelo Raffaele (both founded in the VII century, are probably the most ancient churches of Venice), on the other hand lacing the industrial settlements built between the end of the Nineteenth century: the old Cotonificio, the Magazzini Ligabue and the huge port infrastructures (partially involved in the projects of restoration), that in t11e past century re-drew the geography and the economy of Venice. Even the relationship with stronger central settlement of the historical city in this area is ambivalent: marginal, as witnessed by the perspective plan by Jacopo de Barbari and as still indicated the limits – boundaries of of the canals San Sebastiano, Angelo Raffaele. San Nicolò, and dell'Arzere (a marginality accentuated during the last years of the progressive abandon of the Magazzini and of the settlements of the port area), and at the same time rich in meeting possibilities and relationships. By example, the relationship between the walkway of the Zattere and the old Cotonificio is interesting. also the one between the two banks of the Canale della Giudecca, and between the strong interventions of the XIX century and the codes and the more recognizable forms of the historical city.
THEME
The workshop aims to observe and interpret the space indicated by the competition of the 1998 – space that today hosts the building yard – through a temporary project that could be inspired by the relationship with Venice. with its open and light spaces, the squares, with the tight walkways that constitute their access, with the marginal areas, with the unfinished projects and the ephemeral solutions that left traces and memories in the city. The theme reveals its actuality if we consider that the important projects that involve different areas of Venice nowadays (the project for the site of the old Magazzini Frigoriferi, but also, the Calatrava bridge on the Canal Grande, the interventions that affects the Giudecca island, the competition for the San Michele Cemetery or for the terminal), imply unused spaces, and long and frequent interruptions.
APPROACH
How can we enter in this slot between mind and realization?
What kind of dialogue can we create with a place of expectation and opportunity? Can "unstable"., flexible, light and moving landscapes and architectures exist? Here opens the possibility of the experimentation, to reinterpret the completeness and the stability of the great venetian suggestions, to link architectures that lived along centuries to the limited lime of an installation, but above all to re-discover the inspiration that can come up from minimal elements, silent presences and often unheard, that through the lightness of ephemeral projects communicate their strength and poetry.